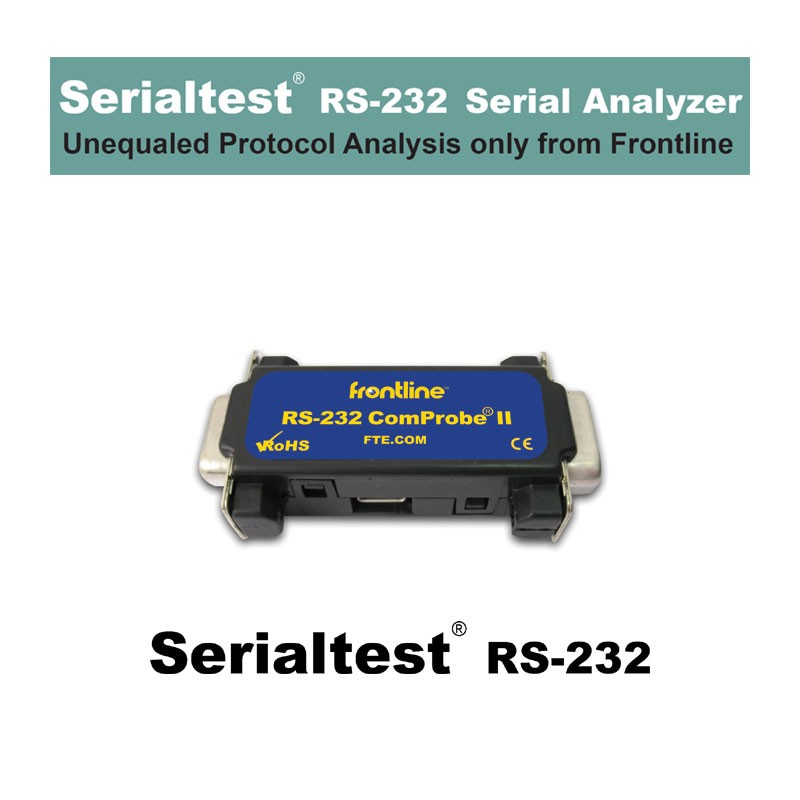  
Serialtest RS-232
RS-232 Serial Asynchronous Analyzer
Portable, flexible, and easy to use,
Serialtest helps you isolate problems fast.
It helps you quickly debug and fix serial communication problems. 
An indispensable troubleshooting tool used across many industries.
See datasheet too [Attachments tab].
Serialtest is a PC-based analyzer for passively monitoring or actively testing serial asynchronous (async) communication circuits and networked equipment, at speeds up to 921.6 Kbps. 
The product offers an economical solution for developing, debugging, testing, and troubleshooting equipment, circuits and software applications on serial data communication networks. 
Serialtest will help you quickly and easily find and fix even the most obscure problems and save countless hours of troubleshooting time. It is portable and easy-to-use with power and flexibility. No matter what the industry, Serialtest is an indispensable troubleshooting tool.
Typical test application areas include utility meter reading, railroad signal and switch monitoring, PC-based control, lottery and gaming, credit authorization, and the Internet.
Once you've used Serialtest, you will never want to work on another serial communication problem without it. 
Uses Frontline's Portable and Easy-to-Use ComProbe II
• Works with async RS-232 ComProbe II (depicted above)* 
• Easy connectivity via USB – simply plugs into USB ports
• No further need for PCMCIA cards (much easier configuration of Serialtest software)
• Three easy ways to tap in to RS-232 communication networks **
• Supports many non-standard baud rates up to 921.6 Kbps
Troubleshoot Serial Data Communications Live
• High-speed, Middle-speed and Low-speed real-time data and control signals analysis
• Captures all data and all control signals
• Time stamp resolution up to 100 nanoseconds
• Automatically calculates delta times and effective data rates
• Built-in decoders for Modbus RTU & ASCII, Async PPP, SLIP and TCP/IP, Saia-Burgess S-Bus
• View captured data, control signals and error conditions live in real-time
• Frame Display: Drills down the entire protocol stack as well as shows any Errors in finest detail
• Display Filters and Detailed decodes for rapid and easy analysis
• Errors are highlighted in red to quickly spot problems
• Create your own decoders with easy to use DecoderScript™ language
Trusted Worldwide by:
• Field Engineers
• Software & Hardware Product Developers
• Network Integrators
• Network Administrators
• Network Troubleshooters
The enhanced Serialtest protocol analyzer software enables shorter and less costly development intervals for data communication equipment and applications, faster and more efficient network installations, and improved mean-time-to-repair following equipment and network outages.
Write Custom Decodes Using the DecoderScript™ Language
Build your own custom decodes for proprietary protocols and extensions to existing protocol decoders using DecoderScript™, Frontline's intuitive, high-level scripting language. Our DecoderScript Manual is a comprehensive guide to using the DecoderScript language and includes many examples of writing custom decoders.
Intuitive Data Displays (survey)
• Live Breakout Box shows captured control signal transitions
• Event Display and Frame Display windows provide live data analysis
• View detailed frame/packet information in multiple side by side windows
Quick & Easy Troubleshooting
• Filter on specific packet fields including node addresses and frame types
• Search by timestamp, control signals, packet errors, and data patterns
• Save unlimited configurations
Transmit Capabilities
• Transmit strings or files once, multiple times, or continuously to detect errors
• Insert delays by millisecond, second, or minute increments
• Set control leads on or off
THE FRONTLINE EDGE
Trusted Expertise and Unequaled Protocol Analysis Experience
Frontline® is a proven leader in the protocol analyzer industry. Since 1985, Frontline has developed a host of technology sniffing tools and shipped over 40,000 units around the globe. Serialtest is the foundation of a growing family of Frontline protocol analyzers, each of which incorporates a time-tested user interface and the DecoderScript™ decoder scripting language.
Outstanding Technical Support of Frontline & AXONNET
Whether you need help using a basic product feature, want an explanation of the protocol stack, or have a question on using DecoderScript to write your custom decodes, you can be assured of a friendly, thorough, and timely response. 
AXONNET responses all first level requests and elevates all other possibly more complex issues to the proper address and response of the vendor himself.
* Note: Async RS-422/485 ComProbe available within Serialtest RS-422/485
** Note: Serialtest RS-422/485 supports 2-wire and 4-wire RS-422/485 networks
*** Note: Also the analysis of RS-449 and RS-530 is possible using extra hardware
Follow-up
See the specifications tab for more information about system requirements. 
To learn more about debugging serial communications, you may download a demo. 
Ask us any pre-sale support questions regarding your measuring needs, protocols and your technical environment. 
Or order your copy of Serialtest online.
Serialtest (aka Serialtest Async) was the major core product of Frontline since its foundation in 1985 till approx. the year 2000 when Frontline started to develop and sell its new branch of the Bluetooth and Bluetooth related analyzers.
Frontline has supplied more then 30.000 units of its Serialtest world-wide so far. 
The current form of Serialtest represents the already IV. generation of the product. 
It is still Portable, Affordable, PC-Based Datacom Test Equipment, now accommodating all Frontline's 25+ years experience in the field while taking the form of a Very Easy to Use, Versatile and Reliable analyzer who's vendor enjoys the long term stability based on its wide product portfolio.
PARTIAL USER LIST
• Petroleum
ExxonMobil, Chevron, Gilbarco
• Defense and Aerospace
Lockheed Martin, Boeing, Northrop Grumman
• OEMs
Rockwell Automation, GE, Emerson
• Municipalities
Washington DC Water/Sewer, City of Los Angeles
• Utility Industry
Cooper Power, DTE Energy, American Electric Power
• Gaming Industry
Scientific Games, Bally Gaming Systems, MultiMedia Games, Video Gaming Technologies
• Heavy Industry
Caterpillar, John Deere
• Medical/Pharmaceutical
Merck & Co., Pfizer, Tyco Healthcare, Baxter Healthcare
• Transportation
GE Locomotive, Union Pacific Railroad, Canadian Pacific Railway
Supported protocols
Beside the plain full duplex data stream capture Serialtest contains and performs the decodes for the structured parsing and displaying of the following protocols:
• Modbus RTU | ASCII
• PPP
• SLIP
• TCP/IP (including ARP, RARP, DNS, HTTP, ICMP, IGMP, NBDS, NBNS, NBSS, SMTP, and UDP)
• Custom decodes (Decoder Script functionality)
• Saia-Burgess S-Bus
(Note: if you look for other industrial/SCADA protocols, pls. check Frontline's NetDecoder analyzer)
Communication Parameters
Communication Mode: Asynchronous only
Data interface: RS-232
Data Rates:
Select a rate from 300 bps to 921,6 Kbps, or 
You may also enter a unique data rate up to 954,861 bps in following ranges:
• 300 - 220000
• 220353 ‐ 238715
• 240385 ‐ 260416
• 264424 ‐ 286458
• 293804 ‐ 318287
• 330529 ‐ 358072
• 377748 ‐ 409226
• 440706 ‐ 477430
• 528847 ‐ 572916
• 661058 ‐ 716145
• 881411 ‐ 954861 bps
Parity: None, Odd, Even, Mark or Space (None is the default)
Data Bits: 5, 6, 7, or 8 (Eight is the default)
Stop Bits: 1, 1.5, or 2. (One is the default)
Bit Order: LSB (Least Significant Bit) or MSB (Most Significant Bit)
Character Sets: ASCII, 7-bit ASCII, EBCDIC, Baudot
Flow Control: Software (including user-defined Xon/Xoff), Hardware (RTS/CTS and DTR/DSR)
Monitor mode: Capture DTE, Capture DCE, or Both (DCE & DTE)
Control Signal Interrupts: on or off (disabled)
Content of the package
Frontline Software for Serialtest (the latest version; either on CD, or the voucher to download it)
RS‐232 ComProbe II (depicted on the image above)
Cables and adapters:
• 6‐foot USB Cable (to connect RS-232 ComProbe II with the measuring PC)
• RS‐232 Y‐Cable (one female 9‐Pin to two male 9‐Pin connectors)
• 6‐foot RS‐232 Extension Cable
• One male 25‐Pin to female 9‐Pin adapter
• One female 25‐Pin to male 9‐Pin adapter
Note: the measuring PC itself is not included.
Frontline Guarantee and Free Software Updates
Frontline does not charge for software upgrades for Serialtest. Buy once and receive all future updates free of charge.
PC System Requirements
• Processor: Pentium 1 GHZ or faster
• OS Supported: Windows XP (32-bit), Windows 7 (32-bit, 64-bit)
• RAM: 1 GB minimum, 2 GB recommended
• HDD: 50 MB free hard disk space
• Connectors: One USB 2.0 Port