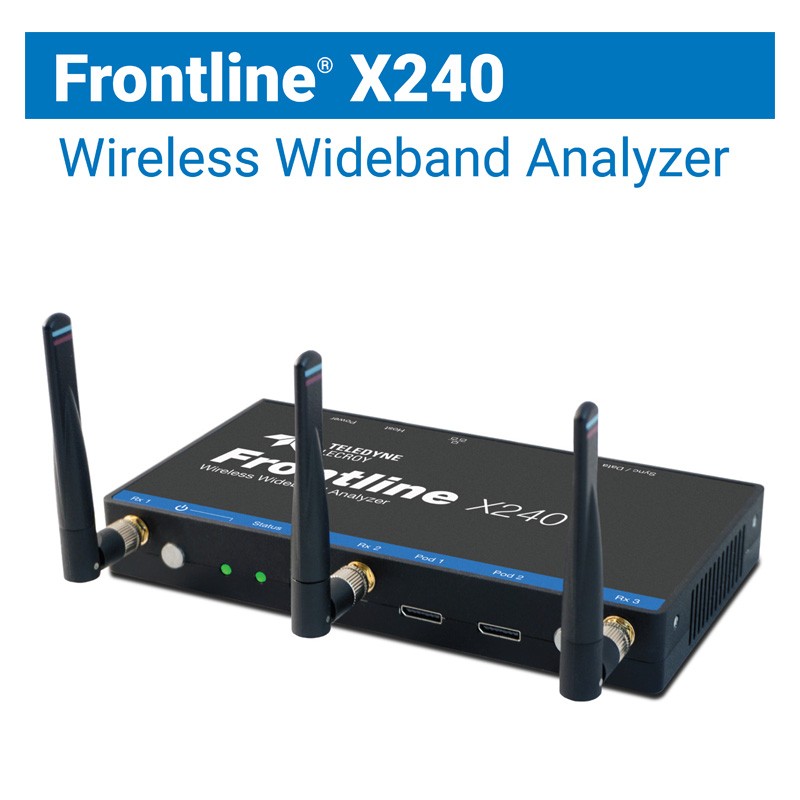  
Frontline X240
Wireless Wideband Analyzer
• Bluetooth BR/EDR,
• Bluetooth Low Energy,
• 802.11,
• 802.15.4.
Protocol analysis within 2.4GHz and 5GHz ISM bands to every lab.
Technology-based licensing is efficient and affordable.
The new Wireless Protocol Suite software's user interface is streamlined to provide the well arranged user experience which builts upon the top of superior reliable Frontline decoding engine for more rapid and cost-effective development, testing and troubleshooting.
All BR/EDR variants include the Bluetooth Audio Expert System.

Note: this webpage describes the fully fledged X240 family variants. Pls. contact us to determine which variant is suitable for you and which features it includes.
See other tabs too.




Key Features and Advantages
Flexible configuration: fits perfectly your needs
Complete captures:of the technologies you need
› Bluetooth Classic (BR/EDR),
› Bluetooth Low Energy,
› 802.11 a/b/g/n and ac 3x3 MIMO, and
› 802.15.4
Bluetooth: all Bluetooth profiles and protocols supported through the latest specification (Feb 2020)
Small & Ultra mobile: small footprint; USB bus or car adapter (included) powered for exceptional mobility
Expert Systems to be Faster: faster root cause analysis on Bluetooth protocol and audio issues with the included
› Bluetooth Audio Expert System (included) and
› Bluetooth Protocol Expert System (optional)
Gain controls: manual and automatic controls allow easy adaptations to every environment
Live- and/or post-capture: decryption and analysis
Excursion mode: one-button initiated PC-free captures
Spectrum analysis: identify potential RF conflicts
Latest Mesh: latest mesh technology supported (Feb 2020)
Wired captures: via two highly user-configurable 8-channel HCI UART/Logic Pods*
HCI UART Capture and decode: H4, H5, BCSP, and WCI-2*
Logic analyzer: up to 16 logic channels*
  * available soon
Frontline X240 Unit
The Frontline X240 Wireless Wideband Analyzer offers the next level for the maximum value. 
The complementary features involve the  Bluetooth audio expert system, Power spectrum analysis, Excursion Mode (PC-free captures), Logic analysis up to 16 channels, and Powering by USB.
They work in addition to the robust hardcore protocol capture and decode analysis of the most common wireless technologies which you develop or troubleshoot, fitting the most challenging settings.
The Proper Tool for Your Job
A new a la carte licensing model allows the user to choose the proper tool for every particular task.
You may equip the X240 with any single technology (Bluetooth Classic [BR/EDR], Bluetooth Low Energy [LE], 802.11 a/b/g/n and ac, or 802.15.4) or any combination of those technologies. The resulting tool is no less than exactly what you need, and no more than you need to buy.
CrossSync™ functionality allows you to connect multiple X240 units together. It allows to capture multiple technologies concurrently, and utilizes a diversity of antennas.
Ultimate Mobility
Because of the current wireless applications ubiquity, also the mobility during testing is essential.
The Frontline X240 was designed to meet this demand.
The X240 unit has packed maximum capturing power in a box comparable just to a common paperback novel.
It is not only the size what matters for a portability. The package comes accompanied with a car adapter for mobile applications, especially in the automotive area. Alternatively, the unit can be also powered by USB when AC power is unavailable.
And when the ultimate mobility is called for, Excursion Mode allows the user to capture all traffic in the air at the push of a button, no need to have any PC attached or present at all.
User Interface – Now Streamlined
The size of displays, even on notebooks, tends to enlarge, while the PCs performance increases essentially. The new Wireless Protocol Suite software follows this trend by combining all the power and various features of Frontline's protocol analysis software with a fresh new interface layout that brings all analysis tools into a single docking framework window at the same time. You can customize it to your own prefered way.
Everything is encompassed; frame display, message sequence charts, packet error rate statistics, throughput graphs, timelines, and all of the other windows into these complex technologies are presented as dockable windows now.
All of them are supported by the mature and robust decodes originating from the decades of experience in wireless protocol analysis embodied by Frontline brand of protocol analyzers.
The software also works with other company's protocol analysis tools for unparalleled simultaneous cross-protocol debugging. The Frontline X240 delivers all the bells and whistles.
It is a world class wireless protocol analyzer that's perfectly tailored to your specific debugging environment. It fits precisely both your needs and your budget.
Bluetooth: Capture Now – Decrypt later
Frontline X240 analyzer lets pair and bond the Bluetooth devices and run the whole communication sessions of the tested device(s) in the exact same manner as when no sniffer is present, it allows having no regard for its own measurement in the background. The developer may enter the relevant decryption key data even when the capture stage is finished and the traffic is already captured. It enables the developer to choose the best way and the proper moment to explore the decryption data from his device under test and to hand them over to X240. 
Say goodbye to often artificial measuring scenarios which required to enter the encryption keys in advance of the measurement or which stressed the developer to resign to watch and to test some kinds of encrypted sessions. Make your products more secure.
Note: this webpage describes the fully fledged Frontline X240 family variant. Pls. contact us to determine which variant is suitable for you and which features it includes.
PC requirements
OS Supported: Windows 10
Connector: USB 2.0 or USB 3.0
Note: the measuring PC itself is not included.
Hardware Specifications
Power: USB Type C connector | USB Wall Adapter with Power Delivery | USB Car Adapter with Power Delivery | Power over Ethernet
Dimensions: 191 x 102 x 26 mm (width; depth; height)
Weight: 750 g
Bus Type: USB Type C | Ethernet (10, 100, 1000 Mbps)
Operating Frequency of SDR used for Bluetooth and 802.15.4: 2395MHz - 2485MHz
Operating Frequency of WiFi Module: 802.11 a/b/g/n (2.400GHz-2.4835GHz) | 802.11 n/ac (5.150GHz-5.825GHz)
Sensitivity Range: -90dBm to +10 dBm
Supported Demodulators: BR/EDR and LE (GFSK, π/4 DQPSK, 8DPSK)
Logic Analyzer Timestamp Resolution: 5 ns
Operating Temperature: 0° to +40°C (32° to 104°F)
Humidity: Operating: 10% to 90% RH (noncondensing)
Regulatory Compliance: FCC part 15 B | ARIB T-66 | IEC 60950 | PSE | NRTL | EMC | CE | WPC
Complementary Tools & Add-Ons
Addon software Expert System modules:
· Bluetooth Audio Expert System (included)
· Bluetooth Protocol Expert System (optional)